Heartfelt ballad "If It's True" from indie psych-rock group Space4Lease
A heartfelt piano-led ballad of love and loss
LISTEN ON IMPOSE MAGAZINE HERE | BUY ON BANDCAMP HERE
For Fans Of: Citizen Cope, My Morning Jacket, Tame Impala, The War On Drugs, Muse
OKLAHOMA CITY | AUGUST 25, 2017 – With an ethereal, reflective and piano-led introduction, the latest single from Space4Lease, "If It's True" once again showcases the band's talent and ability to convey pure emotion into musical and lyrical form. The soft piano opening quickly rises into an emotional roar; reflecting on love, honesty and loss. "If It's True" premiered Tuesday on Impose Magazine, who described it as a "heartfelt ballad" with flawless vocals.
Vocalist Grayson Hamm reflected on the inspiration and message behind the single. "Trials and tribulations… love gained and love lost are things that everyone can relate to or sympathize with in one way, shape, or form. Regardless of individual circumstances there is still something people inherently share emotionally in the most general of senses – we all love, and if you do love, chances are, at some point, you are going to lose that love. [If It's True] is simply about the mistiming of love and how it affects us. Even though the feelings might be there for one another, there might be circumstances outside of our control that pull us apart. Timing can be extremely important, and in most cases, timing can be everything."
The band noted their thanks for support from friends and mentors in shaping their musical progression throughout the project, including Bryce Zabric (The Music Group OKC) and Mitch Bell (ZHU & ACM administrator). "Mitch helped shape parts, pull counter melodies and tweak new ideas out of each us, in performance and in the mixes," said guitarist Walt Blythe. "A big part of 'If It's True' came from running a few different guitars on the building bridge solo section. Nothing quite struck the needed emotion…Mitch pulled out a 1920's Gibson electric hollow body, a true gem in this world. We ran it through an old OctoFuzz, stacked a few drives on top, added a slight delay and completely took the bridge and outro to new heights! I was fortunate to dive into his guitar and gear collection, having options for each song."
"If It's True" comes as the fourth single from Space4Lease in a series of recent releases, that will culminate in a new EP this fall. Purchase the single on Bandcamp, iTunes and all major digital platforms now, and stay tuned for upcoming tour dates.
UPCOMING SHOWS:
August 25 – Wolverine Farm Letterpress & Publick – Fort Collins, CO
August 26 – John Barleycorn's – Wichita, KS
FOLLOW SPACE4LEASE:
Facebook | Instagram | Twitter | Bandcamp | Website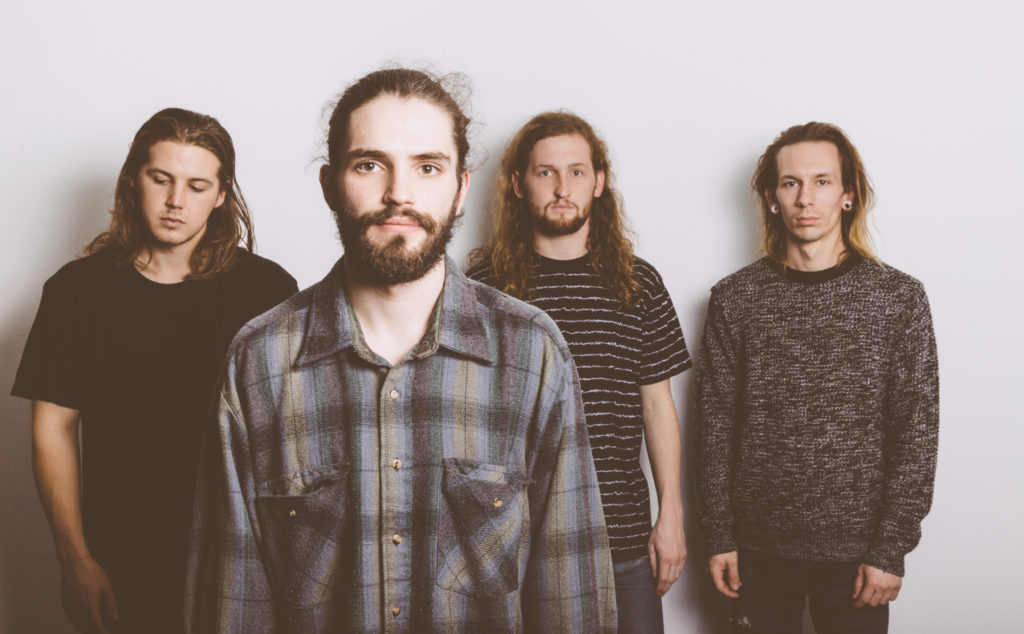 Biography: SPACE4LEASE is a psychedelic indie-rock band, ready to lure you in and wash over you with waves of musical seduction. Inspired by lost love, the grace of the unknown, and inevitable life experiences, their music is full of soul-leaning vocals, intricate guitar melodies, expressive bass lines, and eloquent drum patterns, all driven by frontman Grayson Hamm's tasteful piano playing. Formed out of Oklahoma City, OK, the four-piece's sound draws influence from artists such as Tame Impala, My Morning Jacket, and upcoming artists like Big Thief, and Andy Shauf. They pride themselves in remaining elusive to the confines of any one genre, and have worked hard at developing their own musical identity and sonic aesthetic.
The story of SPACE4LEASE originated in 2014, when keyboardist Grayson Hamm met the other members while attending the Academy of Contemporary Music at the University of Central Oklahoma. Coming from vastly different musical backgrounds and tastes, the group formed as a unique convergence of influences. They released their first EP Hiraeth in November 2016, a collection of songs encompassing a journey of self-discovery. Buoyed by a blossoming local music scene, the band quickly became known in the Oklahoma region and have toured extensively throughout the Midwest. Derek Brown of The Flaming Lips, described them as, "Fellow Okies that wonderfully mix the blissfulness and melancholy of the great wide open. Highly recommended!" With the fantastical glamour of psychedelic pop influences, but enough grit and grime of grounded originality, SPACE4LEASE is like no other in their blend of refreshingly authentic and enticing music that will draw you close, and hold you tight.