Space4Lease Celebrate EP Release of Drifting
Dreamy indie-pop from OKC kick off fall tour in support
OKLAHOMA CITY | SEPTEMBER 22, 2017 – Indie-pop blended psychedelic rock group Space4Lease released their EP Drifting today. Featuring five uniquely gorgeous and emotive singles, the release takes you on a tumultuous emotional journey, focused on love, relationships and every step in between. Built up in an enticing blend of layered harmonic melodies and lyrically intense vocals will sweep you off your feet and into another world of love, loss, heartbreak and acceptance.
True to form, the band revealed brand-new artwork for the EP cover, to concisely pull each single together. The cover, as well as each single's individual artwork, were designed by Joxen out of Tulsa, OH. Featuring a montage collection of scanned items and bright colors, the abstract art opens your mind – ready for the band's indie pop melodies to wash over you.
Vocalist Grayson Hamm provided his insight on the project's release, "To sum up Drifting simply is that I'm speaking on the uncertainties and frustrations we experience with the ones we love. The ups, the downs, and all the other stops along the way are constantly shaping who we are as people and how we perceive the world that we abide too. Searching internally and externally to find resolution, clarity, and acceptance of who we are regardless of the outcome and just continue along the journey. As a songwriter I feel this collection of songs is just a chapter of my life and a door I have closed. I'm just trying to do better and improve from here. You can catch these songs live over the next couple months while we are on tour – hitting some of our favorite cities in the Midwest!"
Today, the band revealed the official tour poster for their upcoming dates; which will take them throughout the Southeast and Midwest U.S. A number of new dates were added since the tour's initial announcement; see all dates below and catch the band live!
The band's EP Drifting is now available for sale on Bandcamp, Itunes, and all major digital retailers. Physical copies will be availble on CD in the coming weeks, from the band's Bandcamp, website or live at shows.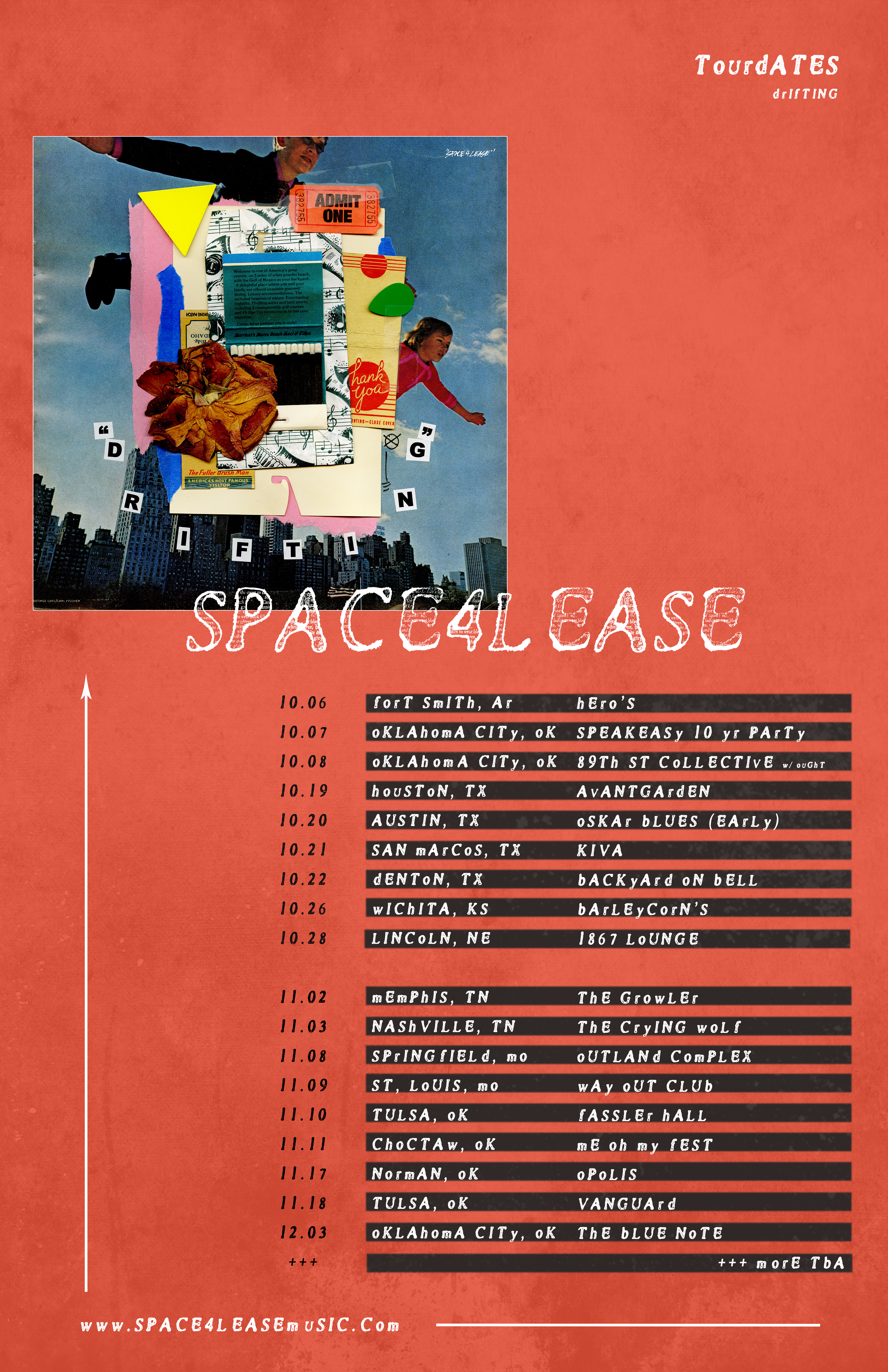 SPACE4LEASE TOUR DATES
10/06 – Fort Smith, AR – Hero's
10/07 – Oklahoma City, OK – Speakeasy 10 Yr Party
10/08 – Oklahoma City, OK – 89th Street Collective
10/19 – Houston, TX – Avant Garden
10/20 – Austin, TX – Oskar Blues Brewery
10/21 – San Marcos – Kiva
10/22 – Denton, TX – Backyard on Bell
10/26 – Wichita, KS – Barleycorn's
10/28 – Lincoln, NE – 1867 Bar
10/29 – Lawrence, KS – Replay Lounge
11/02 – Memphis, TN – The Growler
11/03 – Nashville, TN – The Crying Wolf
11/08 – Springfield, MO – Outland Ballroom
11/09 – St. Louis, MO – Way Out Club
11/10 – Tulsa, OK – Festivus for the Best of Us at Fassler's Hall
11/11 – Choctaw, OK – Me Oh My Release Festival
11/17 – Norman, OK – Opolis
11/18 – Tulsa, OK – The Vanguard
12/03 – Oklahoma City, OK – Blue Note
*more TBA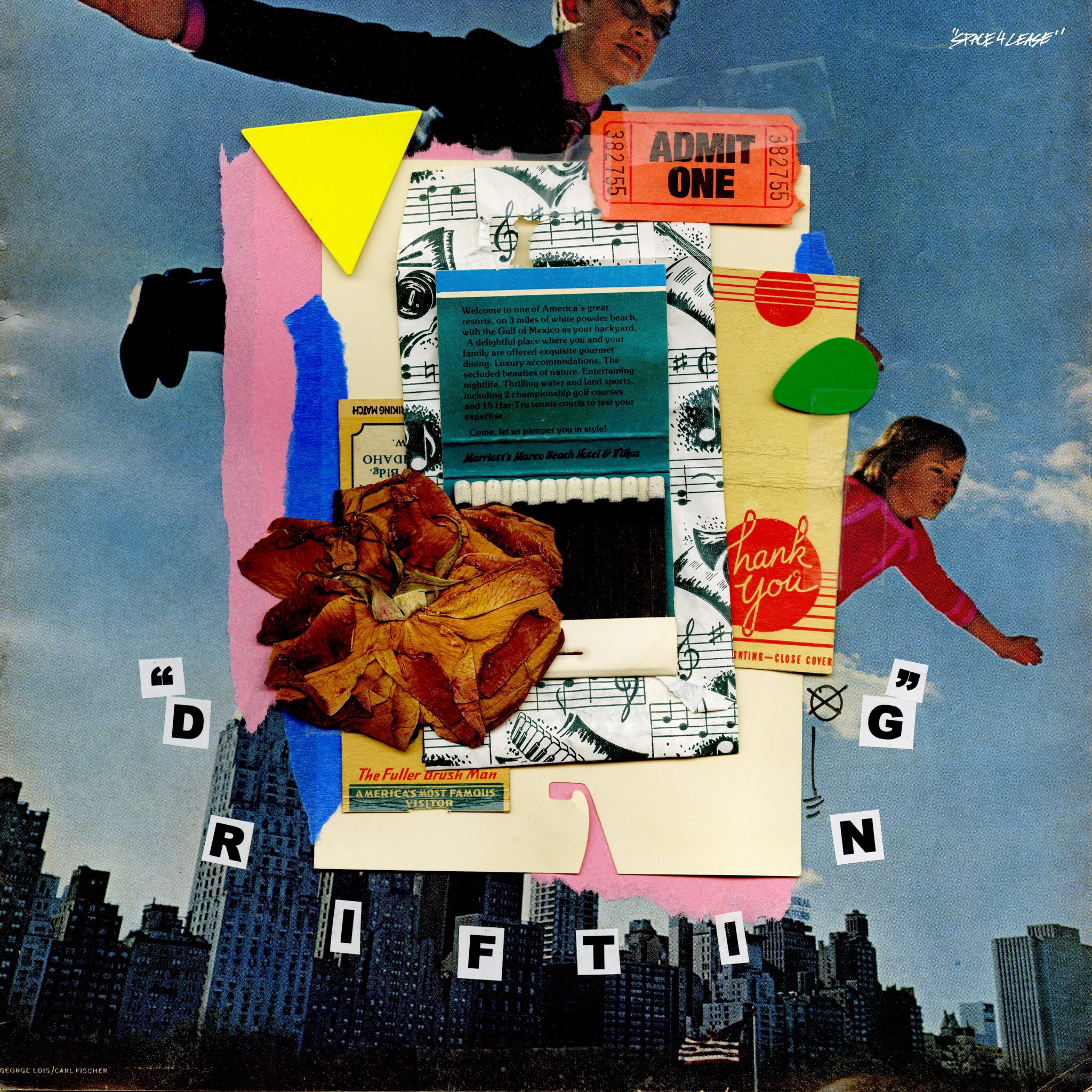 FOLLOW SPACE4LEASE:
Facebook | Instagram | Twitter | Bandcamp | Website
Biography: SPACE4LEASE is a psychedelic indie-rock band, ready to lure you in and wash over you with waves of musical seduction. Inspired by lost love, the grace of the unknown, and inevitable life experiences, their music is full of soul-leaning vocals, intricate guitar melodies, expressive bass lines, and eloquent drum patterns, all driven by frontman Grayson Hamm's tasteful piano playing. Formed out of Oklahoma City, OK, the four-piece's sound draws influence from artists such as Tame Impala, My Morning Jacket, and upcoming artists like Big Thief, and Andy Shauf. They pride themselves in remaining elusive to the confines of any one genre, and have worked hard at developing their own musical identity and sonic aesthetic.
The story of SPACE4LEASE originated in 2014, when keyboardist Grayson Hamm met the other members while attending the Academy of Contemporary Music at the University of Central Oklahoma. Coming from vastly different musical backgrounds and tastes, the group formed as a unique convergence of influences. They released their first EP Hiraeth in November 2016, a collection of songs encompassing a journey of self-discovery. Buoyed by a blossoming local music scene, the band quickly became known in the Oklahoma region and have toured extensively throughout the Midwest. Derek Brown of The Flaming Lips, described them as, "Fellow Okies that wonderfully mix the blissfulness and melancholy of the great wide open. Highly recommended!" With the fantastical glamour of psychedelic pop influences, but enough grit and grime of grounded originality, SPACE4LEASE is like no other in their blend of refreshingly authentic and enticing music that will draw you close, and hold you tight.