Reggae Rockers Super Hi-Fi Release New Video For "Little Black Book"
"Little Black Book" premiered on February 8th via GroundSounds!
Pre-order the new album Blue and White from Very Special Recordings on Bandcamp HERE
"Little Black Book" comes off Super Hi-Fi's new album Blue and White which will be released by Very Special Recordings on 3/9/18

BROOKLYN, NY | FEBRUARY 9, 2018: Leading up to the March 9th release of their fifth studio album Blue and White, Brooklyn's Super Hi-Fi have dropped a quirky video for their first single "Little Black Book" which premiered on GroundSounds this past Thursday. Picking-up where they left off with their 2012 release Dub To The Bone, "Little Black Book" once again showcases the band's dual trombone prowess and penchant for heavy bass lines. However, unlike Dub To The Bone, "Little Black Book" draws influence from west African music and the unmistakable rhythms of Afrobeat. The song is bolstered by drummer Madhu Siddappa's shuffling groove and Jon Lipscomb's hypnotic guitar playing which draws the band away from their traditional, dub-heavy reggae roots and into a west African inspired musical amalgam.
The video was created by musician and visual artist Stefan Zeniuk, whose recent work has been featured in Billboard and NPR Music. Specializing in stop-motion animation, Zeniuk used nearly 2,000 images, with a mix of sculpted clay, broken glass and even tic-tac's to achieve the final result. Having produced videos for bassist and band leader Ezra Gale's side-project The Eargoggle, the collaboration came naturally and Zeniuk's unique, visual interpretation of "Little Black Book" matches the songs rhythmic pace perfectly.
"The rhythm of the fast guitar balanced with the slow and long trombone melodies initially popped into my mind a sense of frenetic and fast moving images, abstract and schizoid, fast enough to actually lull the viewer into a meditative and static state." – Stefan Zeniuk
Gale says that "Little Black Book" is essentially a song about people who work jobs that they're ridiculed or hated for. In this instance the ridicule is aimed at an NYC meter maid who is simply making his rounds with 'his little black book'. Slim Blue which is the name that Zeniuk uses to refer to the clay figure featured in the video, is hated by the people that he issues parking tickets to, yet fulfills his appointed duties and carries on with his life. It's a thankless job but someone has to do it and "Little Black Book" conveys this sense of alienation and misunderstanding both through the music and the accompanying video. Gale says, "I wrote it right after I got a parking ticket and I was really pissed off. I was trying to not be so angry and be more empathetic towards people who have a job that makes them do something everyone else hates, and so makes them hated, which isn't really fair. It worked and I wasn't as angry after writing it…for a little while, anyway!"
"Little Black Book" comes as the first single off the bands forthcoming LP titled Blue and White which is set for release on March 9, 2018 via Gales own cassette-centric record label Very Special Recordings. While Blue and White may only be the bands second album of predominantly all original material (there is a cool cover of The Police's "Hole In My Life"), it will actually be the fifth LP that they have released over the past five years! This dense discography includes 2012's Dub To The Bone, 2013's 7″ releases of "Single Payer" & "We Will Begin Again", 2014's Yule Analog Vol. 1 , 2015's Yule Analog Vol. II, and 2016's critically acclaimed LP Super Hi-Fi Plays Nirvana. 
On March 3, Super Hi-Fi will celebrate the release of Blue and White with a performance at Nublu in New York City, with support from The Cameramen. "Little Black Book" will be available for stream and purchase on Spotify, iTunes, Bandcamp and all major digital retailers. Pre-order Blue and White from Very Special Recordings HERE.
Super Hi-Fi is:
Rick Parker, Robert Stringer – Trombones
Jon Lipscomb – Guitar
Ezra Gale – Bass, vocals
Madhu Siddappa – Drums
 Connect with Super Hi-Fi on socials!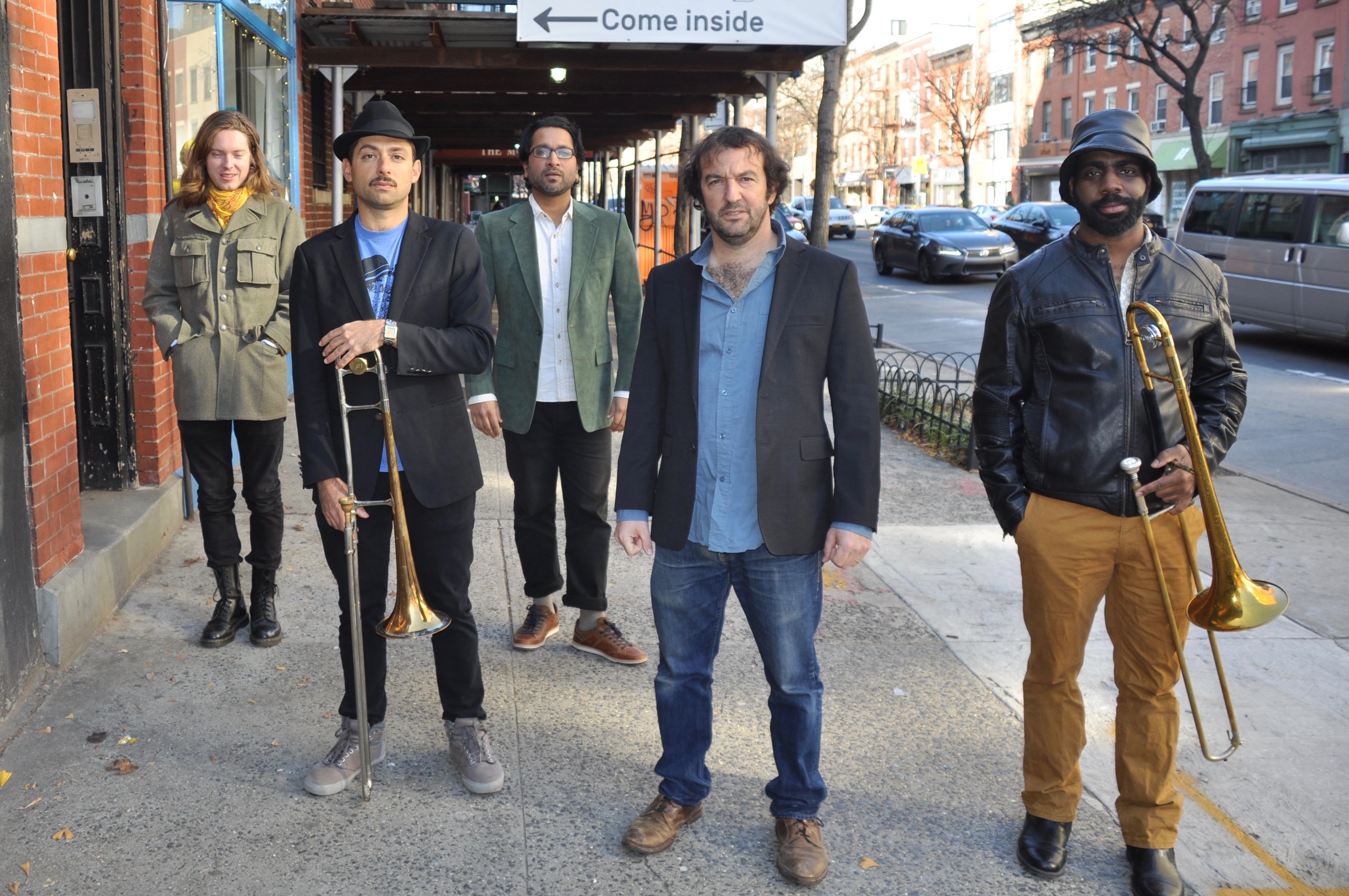 About Super Hi-Fi:
Brooklyn-based Super Hi-Fi- an underground supergroup of sorts whose members have backed a diverse collection of artists ranging from Beyonce to Donovan to Bill Frisell to the Skatalites- mixes jazz-inflected trombones, the heavy rhythmic thump of Jamaican dub and touches of afrobeat, funk and rock for a mix memorably described as an 'imaginary soundtrack from Lee 'Scratch' Perry, The Specials and Led Zeppelin.' Led by bassist and composer Ezra Gale, whose last outfit, the San Francisco-based Aphrodesia, took their take on afrobeat all the way to Femi Kuti's Shrine in Lagos, Nigeria, Super Hi-Fi has been making waves in the fertile New York music scene since 2010, releasing records nearly non-stop since their debut full-length album, "Dub To The Bone," in 2012.
Deservedly acclaimed both for their prolific recorded output and their live show, Super Hi-Fi's unique double trombone-led sound is equally at home at a raucous dance party or an intense listening session. Applying the improvisatory dub mixing approach to live performances of the band's original compositions and inspired covers, the group has shared stages with John Brown's Body, Rubblebucket, Beats Antique, Debo Band, Meta and the Cornerstones, Giant Panda Guerrilla Dub Squad and many others at venues like the Brooklyn Bowl, Maxwell's, the Mercury Lounge, the Rocks Off Concert series and elsewhere.
Meanwhile the group's varied recorded output- which with the release of the new album "Blue and White" will stretch to five full-length albums and 4 single releases in five years- has garnered worldwide praise. Their debut full-length, 'Dub To The Bone,' was crowned 'Best Reggae album of the year' from NY Music Daily and the #1 album of the week from the NY Daily News (Dec 2, 2012). The band's first single, the 7″ "Single Payer" (Electric Cowbell Records), was recorded by Brooklyn dub legend Prince Polo and received raves ("warm, enveloping, and heavy as lead" said Reggae Vibes) with a B-side of a radically deconstructed remix from Brazil-based dub producer Victor Rice. A split 7″ with Seattle's Polyrhythmics featuring the "cinematic afro-dub" of "We Will Begin Again," was called "Eerie, reminiscent of Rico Rodriquez' work on the Specials' Ghost Town" by Splinters and Candy. The band's two Christmas albums- "Yule Analog Vol. 1" (2014), and "Yule Analog Vol. II" (2015) featured re-imaginings of Christmas classics and were critically acclaimed even from Scrooges like the music website InForty, who wished "If only shopping malls were blasting this every holiday season!" Next came two releases of inspired takes on classic songs- the Record Store Day Beatles/Police single on Electric Cowbell and the cassette (!) and download-only "Super Hi-Fi Plays Nirvana" (Very Special Recordings), which Paris DJ's called "for sure the most surprising cover album of 2016!"
Super Hi-Fi's new release, "Blue and White", will feature original songs and will have a stunning cover design from printmaker Robert Swainston, who designed a cover that will be printed on each album individually. "Each one will be a little different but will come from the same source" explains Gale, "which echoes the aesthetics of dub music where you have different pieces made from the same song." It's a different perspective and more ambitious than most, but it's clear by now that there aren't many challenges Super Hi-Fi isn't interested in taking on.
For press inquiries contact Alex Pastuhov /alex@behindthecurtainsmedia.com