RECAP: We had a blast at Northside Festival 2017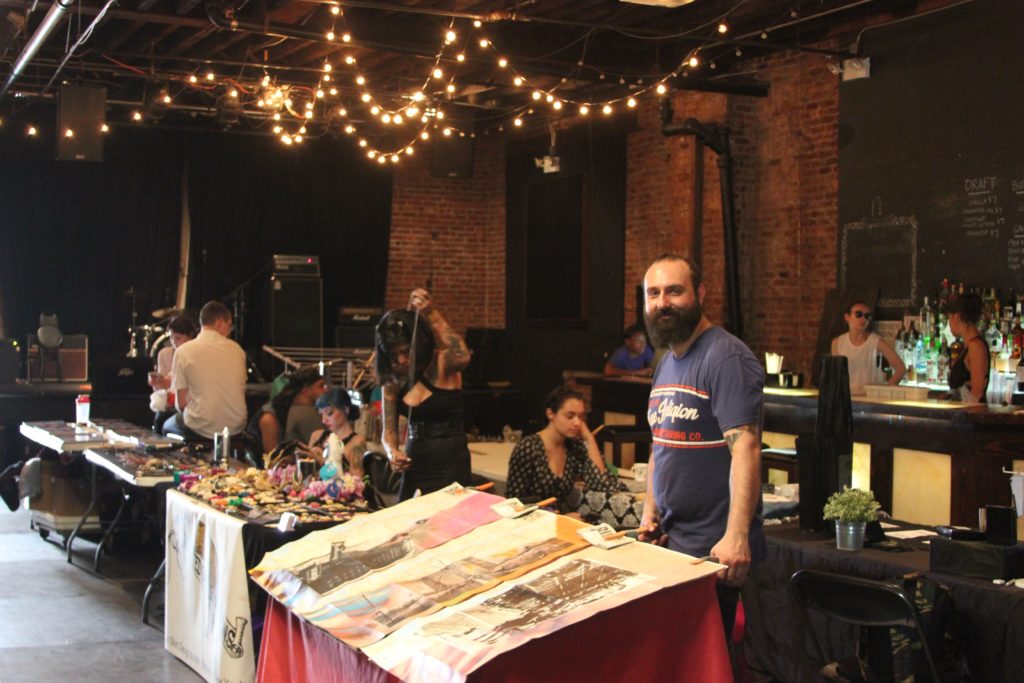 After the bar has shut down, the lights turned on, and the bands have all packed-up and headed their separate ways, one is left with a feeling. Maybe it's a ringing in your ears, or the onset of an inevitable hangover. Maybe it's pure joy and the sense that you just bore witness to something exclusive and magical. Or maybe you're just dog-tired, thirsty, and desiring nothing more then the comforts of your bed and place of respite. Whatever your post-Northside Festival state of mind may be, there is one lingering sensation, and one word that rings true for most of us, and that word is FUN. You saw friends, listened to some cool bands, shared some drinks, and some laughs. You had a good time right?
For us, that is the goal. Going into an event like Northside Fest, especially if you're on the organizing or showcase planning end of things, the main objective is to have fun. Sure, you want to put on a good event, and you want people to come out and show support, but at the end of the night when the dust has settled and you're loading that last piece of gear into the car you simply want to look back on the whole experience and say, "Damn, that was a good time." Sure there are going to be a few hiccups, and a couple of minor derailments along the way, but that all just comes with the territory. You roll with the punches and you will yourself to push forward, no matter what.
Northside Fest 2017 did not deprive us of set-backs or 'learning moments', but it did reinforce our instincts to persevere and have fun regardless of any minor hitches. With the help from our friends at Rocker Stalker, TJO Presents, and Rock N' Shop, we booked over 30 bands and artists over two showcases, some of which traveled from as far away as Los Angeles, Memphis, Maine, and Michigan just to take part in the whirlwind of music and celebration that is the heart and soul of Brooklyn's annual Northside Fest. We organized food vendors, arts and crafts merchants, and provided resting places for those coming from afar. We shlepped and set-up equipment, played the role of 'sound guy' and therapist, and we did it all with poise and patience under the glare of the hot afternoon sun. I guess you could say we won the day, or at the very least we fulfilled our fun quota over the course of the weekend.
It was a real honor to finally meet some of the bands and artists that we've been working with. To see them perform, and to put a face to the name so to speak. Tiger Adams and the whole China Gate crew delivered a phenomenal, energy-packed set of charming indie-rock tunes that captured the attention of anyone lucky enough to pass through the room.
L.A.'s native son F.Y.I. graced the outdoor stage at The Paper Box and turned heads with his powerful lyrics, hard hitting beats, and undeniable talent and personality. His politically charged new album ameriBLACKKK is out now and we highly suggest you pick-up a copy: https://fyipsalms.bandcamp.com
Brooklyn's favorite power-pop trio Onesie launched out of the gate at full-tilt and didn't slow down until the final note. They played like a band with something to prove and left the audience at Bar Matchless rubbing their jaws, and wondering what had just slapped them across the face. It was raw, it was intense and it was inspiring. All the components that make up a great performance.
We witnessed the angsty energy of a band from Michigan called The Cringes (also at Bar Matchless), who tore through a collection of finely crafted rock numbers and left an impression of purity and youthful promise.
The grunge/punk outfit known as Castle Black ripped through their vicious songs with purpose and precision; reminding us all that the 90's is a musical time period worth embracing and that the power trio is still and will always be king (or in this case queen?).
The founders of Rock N' Shop, and stewards of all things rock n roll, The Bushwick Hotel, left it all on the stage. Their massive wall of sound and unadulterated power and charisma induced some head nodding, casual swaying, and even some true to from dancing which for a rock show in Brooklyn is like seeing a unicorn. Because let's face it, somewhere along the line it stopped being cool to publicly have fun. God forbid you get caught expressing joy or any emotion other then hipster apathy. Luckily for us all The Bushwick Hotel is not scared to have a good time or embrace the spirit of what good'ole rock n roll is all about. They don't care for your judgy, 'too cool for school' attitude because they're true badasses and we LOVE them to death for it.
Closing out the festivities at The Paper Box on Sunday night was the infamous Hayride Casualties, who's earth conscious, protest anthems refocused our beer clouded brains and made us all pause for a moment to ponder the state of the world. This was the bands album release show for their beautiful new record Fossil Fuel Kid which is out now and available wherever you buy your music. Singer Daniel Dewald doesn't force feed you an opinion or holler from on high about what you should or shouldn't do in regards to issues like climate change, instead he lets the words and music speak for itself. The statement and message is on-point and topical, and Dewald along with his amazing band back it all up with topnotch musicianship and a genuine passion that is hard to come by in today's music scene.
All throughout Sunday, myself and my colleagues shuffled from stage to stage trying our hardest to catch a glimpse of every band that was on the bill. The heat may have slowed us down but luckily we had refreshments from Wendigo Tea Co., pizza from the insanely delicious Table 87, and free pancakes to keep us nourished and motivated. Every band that performed brought their A-game and we are infinitely grateful for their participation and positivity. If you weren't there, you missed one hell of a show, and if you were – well then you're probably thinking "Damn, that was a good time."
Huge thanks to Rocker Stalker, TJO Presents, The Rock N Shop, The Bushwick Hotel, all the bands, vendors, and everyone that was involved in helping to put together these showcases. This was truly a group effort and we couldn't have pulled it off without your guidance, partnership, and love for music! We'll see you all next year at Northside Fest 2018.
Much love,
Behind The Curtains Media