Join Us at Northside Festival!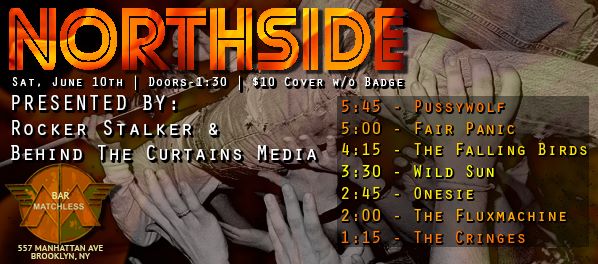 It's that time of the year again – join us at Brooklyn's Northside Festival this summer, with our upcoming showcases! This year, we're co-hosting two, on Saturday, June 10 and Sunday, June 11 – so it'll be a party all weekend long!
Saturday, June 10: We team up with our favorite local bookers Rocker Stalker once again! We take over Bar Matchless for an OFFICIAL Northside Festival 2017 showcase! Doors at are 1pm, with music starting 1:15 so don't be late!
1:15 The Cringes
2:00 The Flux Machine
2:45 Onesie
3:30 Wild Sun
4:15 The Falling Birds
5:00 Fair Panic
5:45 Pussywolf
Join the Facebook event HERE. It's FREE with a Northside Festival BADGE (for first 25) and $10 for everyone else. This is a 21+ event. Bar Matchless is located at 557 Manhattan Ave, Brooklyn, NY 11222.

Sunday, June 11: We teamed up with a badass crew to present a special Northside Festival Rock n' Shop at The Paper Box! Rock n' Shop is a pop-up artist and maker market, food festival, and live music showcase!
With the goal of presenting Brooklyn culture under one roof, rock band and art collective, The Bushwick Hotel, transforms The Paper Box, one of Bushwick's largest music venues, into a truly unique shopping, culinary, and entertainment experience.
On Sunday June 11th Behind The Curtains Media, Rocker Stalker and TJO Presents will be presenting this huge, FREE, all-ages showcase! Spend the day enjoying delicious food and drinks, shopping for art, crafts, apparel, jewelry, accessories, records, musical instruments, or get a piercing after your new haircut!
Live Music By:
Stage 1–
2:00p – Graveyard Lovers
3:30p – Soraia
4:15p – Slow Suck
5:00p – Of Clocks And Clouds
5:45p – Chaser Eight
6:30p – The Pony Girls
7:15p – The Giraffes
8:15p – The Bushwick Hotel
Stage 2
1:30p – Christopher Beggars
2:15p – Bad Galaxy
3:00p – Wheel & Frame
3:45p – TBD
4:30p – B.R.Mackie
5:15p – Amanda Fama
6:00p – The Dream Eaters
6:45p – George Morris
7:30p – China Gate
8:15p – Hayride Casualties (Record Release Show)
Outdoor stage–
1:45p – The Working Mothers
2:30p – Courtesy Tier
3:15p – Johnny Modelo da Moda
4:00p – The Falling Birds
4:45p – Castle Black
5:30p – FoxFires
6:15p – Mandala (band)
7:00p – FYIpsalms
7:45p – Ninjasonik
Vendors —
Wendigo Tea Co.
More TBA
Best of all? It's FREE to enter! Join the Facebook event HERE so you don't miss any details!
(And freePancakes from 11AM-12PM if you need convincing to get over early!) Conveniently located between the Grand St. and Montrose Ave. stops off of the L train and a short walk away from the Morgan Ave. L stop in East Williamsburg/Bushwick (The Paper Box, 17 Meadow St. Brooklyn, NY 11206). This is open to all ages, and a family friendly event.