Hayride Casualties Release 'Fossil Fuel Kid', premiered on The Deli Magazine
Politically, Environmentally & Socially Charged Indie Folk-Rock

For Fans Of : Elliott Smith, Sunny Day Real Estate, Eddie Vedder, Arcade Fire, Bob Dylan, Pete Seeger, Simon and Garfunkel, Ryan Adams, Jackson Browne
NEW YORK CITY | June 9, 2017: It's not uncommon for a band to publicly stand behind issues they care about. What's far less common is for a band to let themselves be explicitly "about" a single issue; Hayride Casualties' first full-length release, Fossil Fuel Kid, is a notable example: compelling music in its own right that also carries an equally compelling, unambiguous message about what many call the defining issue of our lifetimes: climate change. Released today, with a premiere by The Deli Magazine yesterday, it's an album more relevant than ever, bringing with it an urgent call to action.
Fossil Fuel Kid is dense. Each song is packed with philosophical musing, personal brooding, and a grounded but hesitant message of hope for the planet. With a sound that tips its hat to seminal voices in 60's rock, folk, indie and underground music, Fossil Fuel Kid is a little planet in and of itself worth exploring.
The album kicks off with "Antarctica," a bluegrass-inspired ode to that icy dreamscape at the bottom of the world. The lyrics explore majestic ice caps, isolation, and the sadness of watching seemingly indestructible things – like Antarctica – disintegrate in front of our very eyes. Other tracks focus in on controversial topics, like the song "The Catskills Ain't for Sale" which confronts the challenge of protecting our nation's natural resources from fracking, and the small town communities so immediately affected.
The attitude of Fossil Fuel Kid pivots from optimism to unhinged despair on "Coal Fired Train", a single which premiered via Groundsounds earlier this month. The tune's cynical pre-chorus offers this address:
We're off the map, we're lost at sea,
The hedge-fund managers agree
Oiling up a dead machine,
They say we can save the holocene
DeWald, who has experience volunteering with grassroots environmental campaigns, had this to say about the placement of "Coal Fired Train" on the album as a whole: "Fossil Fuel Kid is trying to express the all-consuming cycle that a person goes through who is working towards a seemingly impossible-to-achieve goal. And "Coal Fired Train" is the part of that cycle that's about complete and utter burnout. The word burnout doesn't capture how dark that place can be, but I think the song gets pretty close."
In the album's title track, Greenwich Village-style folk fingerpicking harks back to 60's classics like Bob Dylan's Another Side of Bob Dylan and Simon & Garfunkel's Sounds of Silence. The lyrics are somber sketches about the singer's discovery of his own complicity in the climate crisis. The album closes with the reluctantly anthemic "Same Side", a song, according to DeWald, designed with protests and political actions in mind: "It's not the song that gets sung as a chant, but it's an appeal to a gathering of like-minded people, to help appreciate how powerful we are when we're together. I hope it's able to rile people up in a really positive way."
Fossil Fuel Kid was recorded, mixed and mastered at Behind the Curtains Media studio by Michael Abiuso. A number of guest musicians contributed to the record, including drummer Tim McCoy (Darwin Deez, Field Mouse, formerly Savior Adore) and bassist Chris Bordeaux (formerly The Isles and Rahim).
The album is out for sale now on Bandcamp and all major platforms. Hayride Casualties will celebrate with a record release show this Sunday, June 11 at The Paper Box in Brooklyn, NY, as part of the Rock N' Shop showcase during Northside Festival. The show will be free, all-ages, and features over 30 artists over the course of the day; learn more here.
STREAM 'FOSSIL FUEL KID' ON THE DELI MAGAZINE: HERE
BUY THE ALBUM ON BANDCAMP:
HERE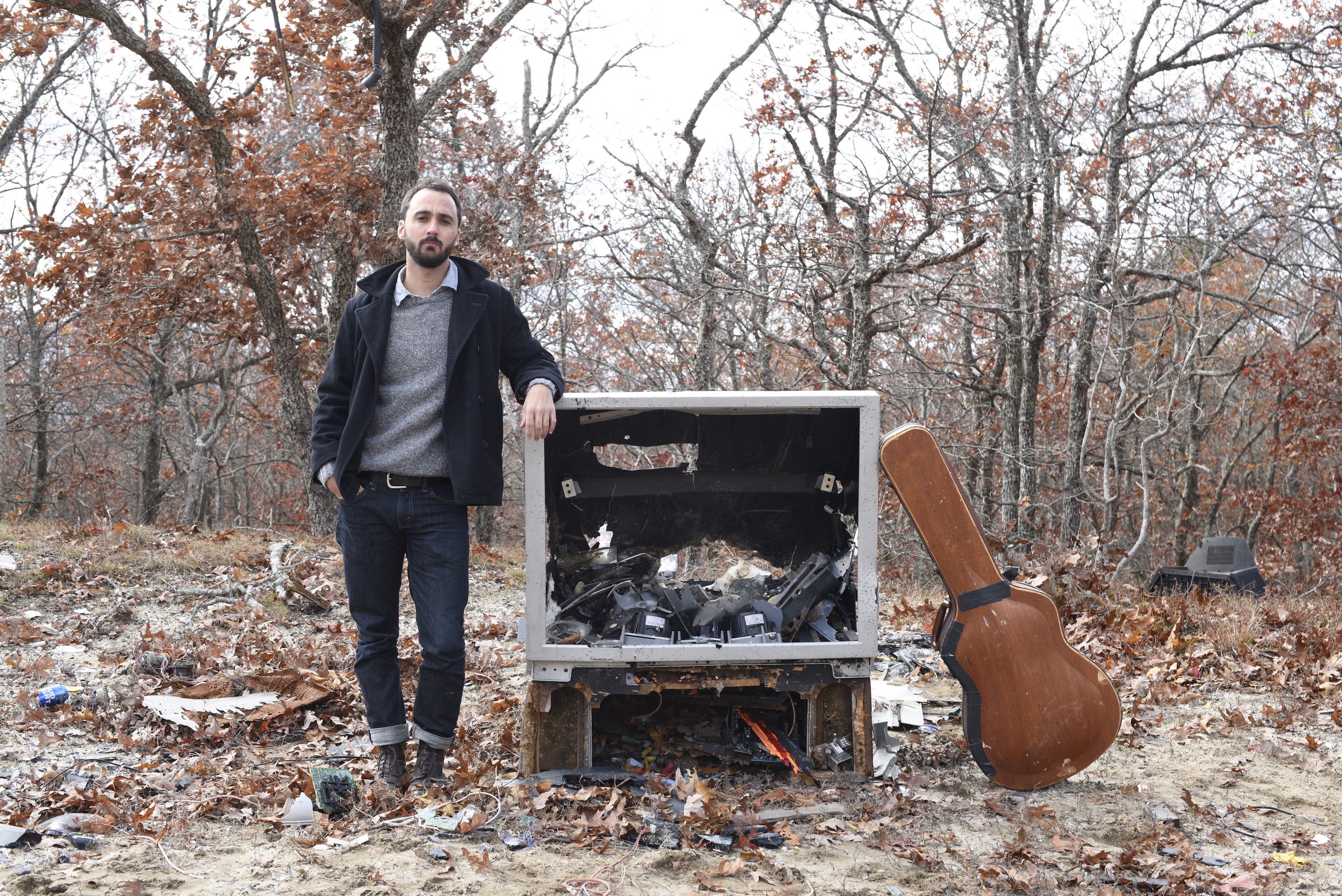 About Hayride Casualties
Everyone would agree that we live in strange, uncertain times, yet too much of the music we listen to fails to reflect this sense back to us. Hayride Casualties is one band defined and driven by the political and ecological crises of our age. Their debut album Fossil Fuel Kid infuses the spirit of 60s protest music with the unprecedented content of modern times, cherrypicking vibes from indie, folk, bluegrass and vintage rock to forge a sound fitting for an important message. Hayride Casualties was started in 2013 by published songwriter, award-winning poet, former community organizer and political activist Daniel DeWald. The band performs in conventional music venues as well as environmental meetings, protests and fundraisers in the New York area.
FOLLOW HAYRIDE CASUALTIES
Facebook – Twitter – Instagram – Bandcamp