Five of the Eyes drop in-studio video of "Wasteland"; Premiered via Pure Grain Audio
For fans of: Circa Survive, The Mars Volta, Mastodon
PORTLAND, Maine | September 15, 2017 – Five of the Eyes are the musical equivalent of the giant boulder that seeks to flatten Indiana Jones in Raiders of The Lost Ark; heavy, relentless, powerful, and virtually unstoppable. Their energetic songs rush forward like a runaway train leaving unprepared listeners dizzy and in the dust. As a band, they embrace many genre's and influences and even though they toe the prog-rock line, their music tends to appeal to basically anyone who simply appreciates amazing vocals, stunning musicianship and expertly crafted songs. In the band's latest video for their song "Wasteland" which premiered earlier this week via Pure Grain Audio we receive all of the above.
On the surface "Wasteland" is a burst of sonic intensity, buoyed by aggressive guitar riffs and a driving rhythm section, but conceptually the song's lyrics attempt to address some difficult socio-political issues. It is a multi-layered song that is scarily prophetic and at the same time undeniably topical in that it shines a light on the current state of our vulnerable planet, and the seemingly inescapable fate of mankind itself. It is also one of the most technical and hardest hitting tracks off the band's forthcoming album The Venus Transit. Guitarist Ned Rich explains the writing process and inspiration for "Wasteland":
"This song started as a Frankenstein of misfit guitar riffs we had kicking around. We had some trouble making them fit together until we came up with the verse groove, which is a relatively straightforward gallop inspired by Heart's "Barracuda", and that solidified the arrangement.  Darrell did an amazing job coming up with lyrics and melodies which go with the desert-like vibe of the music, and it all comes together in a cinematic, dystopian, Orwellian, cautionary tale of a song.  The instrumental section at the ending is also probably the most aggressive and technically challenging thing we've ever written. It's really fun to play and we were really stoked about how it came out on the record."
Conceptually the video is simple, with the camera focused on the band shredding through "Wasteland" live at The Halo where they recorded their upcoming album The Venus Transit. In-between shots of the band, the camera cuts to footage of singer Darrell Foster who is dimly lit and gesticulating as if possessed by the music. He writhes and fires off lyrics from a blackened room, cloaked in darkness; a perfect production choice that caters to the song's dark aesthetic and ominous theme. Created by Sam and Will Caswell of the Portland, Maine based media company Herman Mantis, the video offers enough to be both visually engaging and creative in it's artistic vision and execution.
As we've come to expect from FOTE, "Wasteland" is a blistering track that thunders forth like a heard of elephants. It is ambitious in both subject matter and technicality but then again one could attribute those aspects to just about any Five of the Eyes song. The track comes off their forthcoming full-length album The Venus Transit which is set to drop on September 29th; It is available for pre-order in digital format HERE and CD and vinyl format HERE. The band will hit the road in support of The Venus Transit in mid-October joined by their friends In The Presence of Wolves.
Upcoming Tour Dates with In The Presence of Wolves
Tour poster below
9/30  Portland, ME – House Of Music (Album release show!)
10/13 Stroudsburg, PA – Sherman Showcase
10/14 Philadelphia, PA – Graperoom
10/15 College Park, MD – Whytestone Creative
10/16 Lancaster, PA – Kaleidoscope
10/17 Canton, OH – Buzzbin
10/18 Cincinnati, OH – The Hub
10/19 Lafayette, IN – House Party "The Doom Room"
10/20 Chicago, IL – Reggie's Progtoberfest III
10/23 Muncie, IN – Be Here Now
10/24 Buffalo, NY – Evening Star
10/26 Burlington, VT – Radio Bean
10/27 Lowell, MA – Uncharted
10/29 Hamden, CT – The Space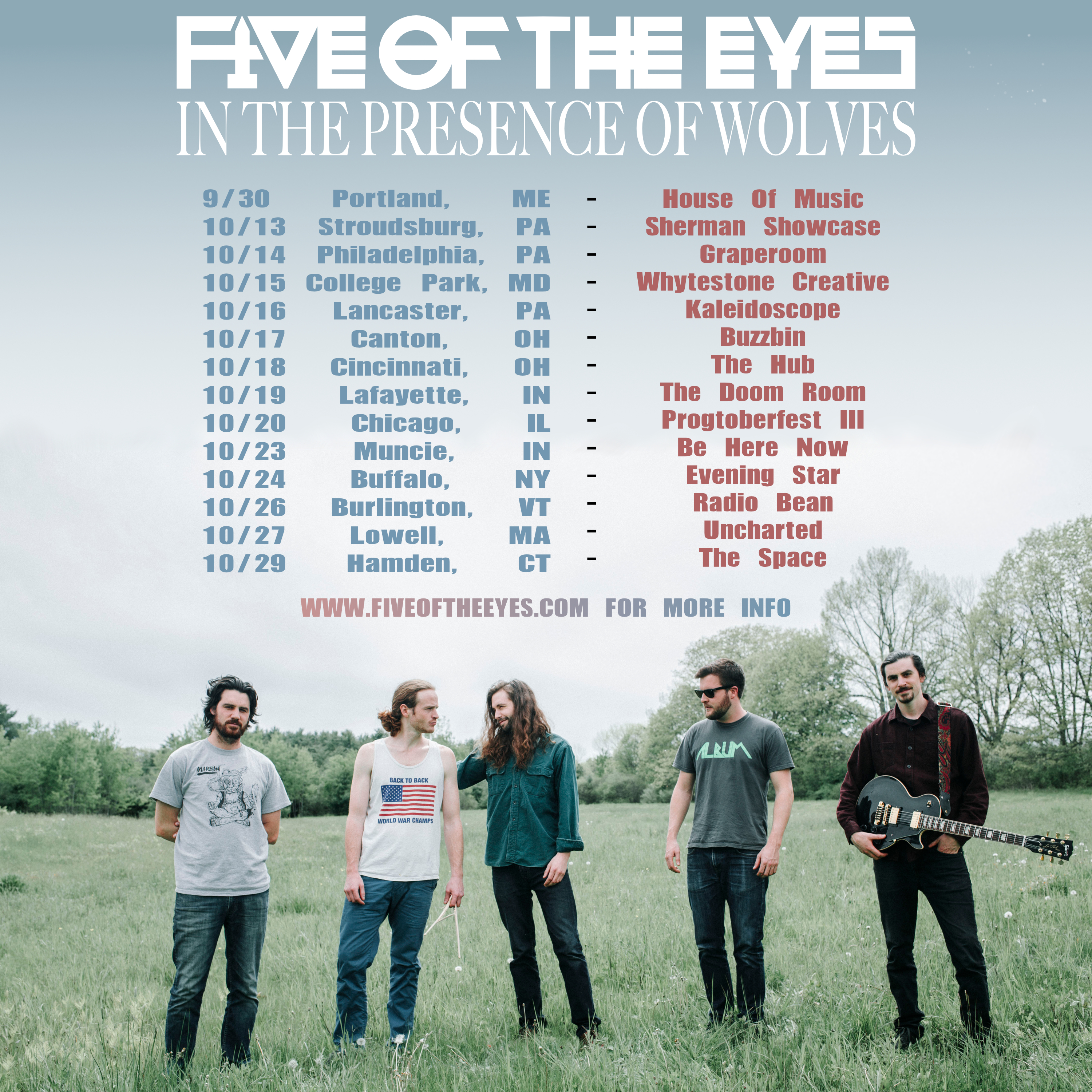 Connect with Five of the Eyes!