Behind The Curtains Media Announce SXSW Showcase, Promotional Contest Giveaway Launched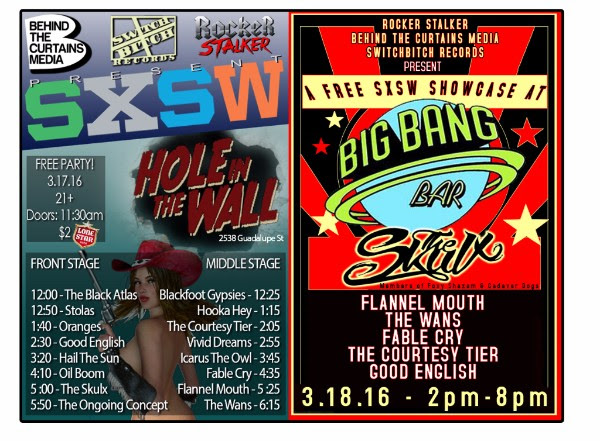 Austin, TX // March 7, 2016: The engine beneath the hood of 40+ bands, numerous companies and even record labels, Behind The Curtains Media has just partnered withSwitchBitch Records and Rocker Stalker to bring you two of the sweatiest South By Southwest showcases to hit the streets of Austin. They will be kicking off the first day party on none other than Saint Patrick's Day with a 16-band bill on the dual-staged venue known as Hole In The Wall on March 17th. This showcase will bring you nonstop music from noon to 7pm and will come fully loaded with a $2 Lone Star beer special as the local brewing company has sponsored the event. The genres of this show will spread from the progressive rock of Blue Swan Records bands Hail The Sun, Oranges, Icarus the Owland Stolas to the gritty rock n' roll of The Courtesy Tier, The Skulx, Flannel Mouth andThe Wans to some female fronted grunge pop with attitude provided by the sister trioGood English! Be sure to RSVP to the event to be sure and guarantee a spot.
The following day Behind The Curtains Media, SwitchBitch Records and Rocker Stalker have invited some of those heavy hitters back for round two with a day party from2pm-8pm in the heart of Austin at Big Bang Bar on March 18th! Another day filled with some good old fashioned rock n' roll in addition to the theatric antics of cabaret rock ensemble Fable Cry. RSVP HERE!
As a special bonus to incorporate some crowd participation, all of our artists have donated some of their fine merchandise allowing for a free contest giveaway to those who get involved and share the event info! It's free, simple and fun. Find further show details and submit to win exclusively via Behind The Curtains Media's SXSW page: BehindTheCurtainsMedia.com/SXSW16
Take a gander at the prizes!
The Skulx: Flast and shot glass
Oil Boom: 7″ vinyl record
The Black Atlas: T-shirt
Hooka Hey: Untamed CD + sticker pack
Stolas: Stickers + Allomaternal CD + singed poster
Oranges: Taxonomy CD
The Courtesy Tier: EP CD + Stickers
Good English: signed poster + CD
Hail The Sun: T-Shirt
Icarus The Owl: Pilot Waves CD
Fable Cry: S/T CD
Flannel Mouth: The Prisoner's Cinema CD
SwitchBitch Records: Compilations CD samples + sticker pack